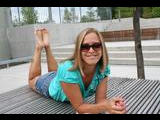 You have found what you have been looking for...the world of Goddess Barbie!

Succulent perfect toes, always freshly polished, high arches and soft soles that are just meant to be nibbled and bitten...I have come a long way since my site opened in 2011 thanks for all my loyal foot fans & slaves.

I am available for private sessions, i also appear at the Toronto Footnight Parties where you can serve your Goddess.